Judging by the draft grades put out right after the 2020 draft, the Minnesota Vikings had one of the best drafts of any team: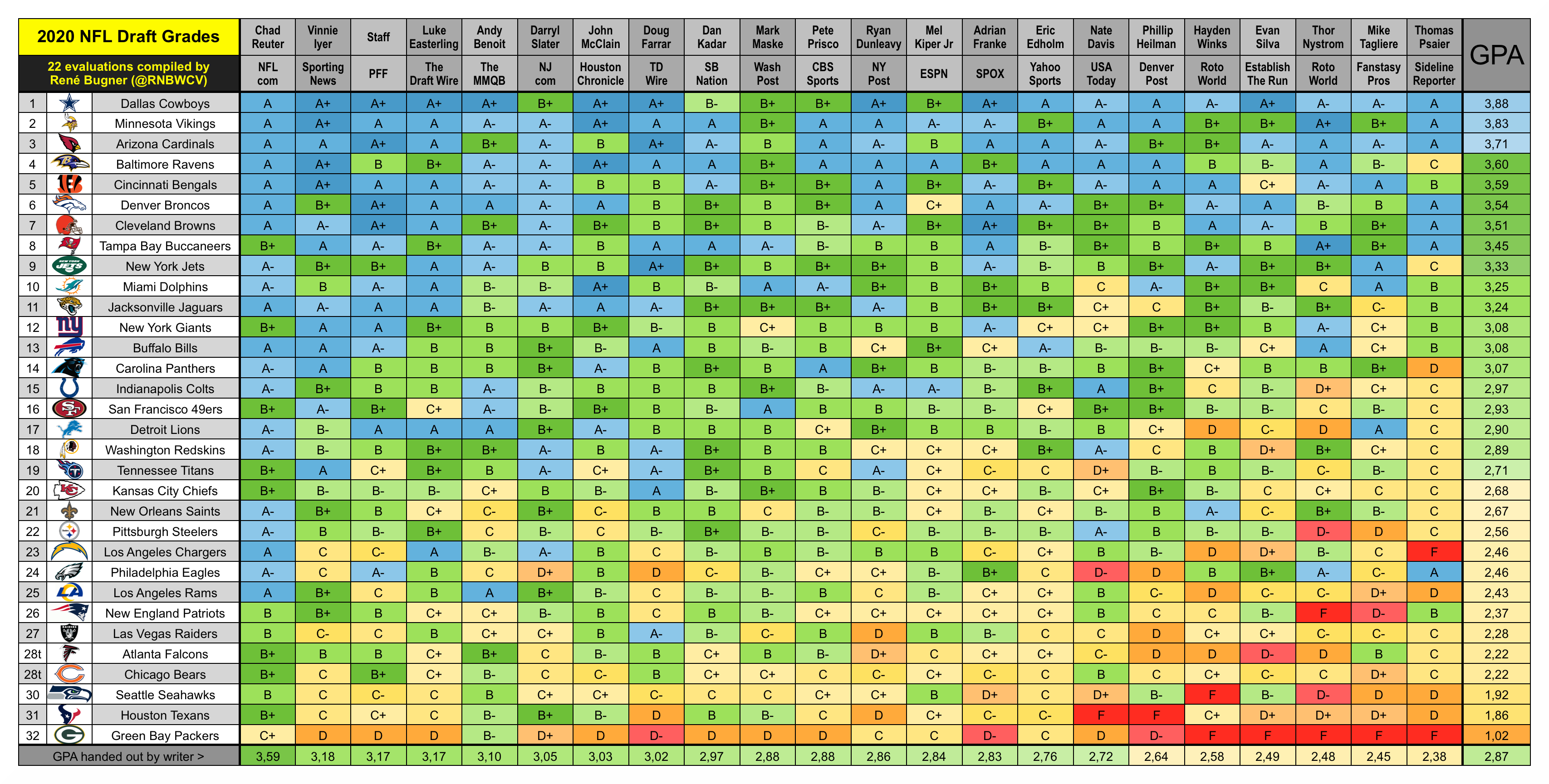 Of course, we all know draft grades are hardly predictive of how draft classes will actually pan out — Bleacher Report once wrote that the Seahawks drafting Russell Wilson in 2012 was "by far the worst move of the draft," and they also wrote that the Vikings trading up for Pat Elflein was "one of the steals of the 2017 class."
But with half of the 2020 NFL season already in the books, we have a much better sense of how this draft class will pan out. Hindsight is 20/20, so how would the Vikings' draft class change if they could go back in time and do it all over again now?
---
Round One, Pick #22

The Actual Pick: Justin Jefferson (WR)
The Redraft Pick: Justin Jefferson (WR)
No doubt about it, even in a do-over the Vikings are sprinting to the podium with this pick, same as they (virtually) did on draft night:
Eight games in as a rookie, Jefferson has already made Pro Football Focus's Midseason All-Pro team. Jefferson is second in the NFL with 3.12 yards per route run, which is the highest mark of any receiver since 2008 except Davante Adams this year. Jefferson is also second only to Adams in overall grade and receiving grade per Pro Football Focus, and he is the second-highest graded rookie in his draft class only narrowly behind New England Patriots guard/tackle Michael Onwenu.
But you don't need the accolades or grades to know how good Jefferson is — his talent is obvious to anyone who watches his games:
We wrote this past summer about just how good of a route runner and receiver Jefferson is, and he has certainly lived up to that billing and then some.
There is even a case to be made that Jefferson was the best pick in the draft. Pro Football Focus has authored studies showing that wide receiver is the most valuable position in football after quarterback, and while the rookie quarterbacks are performing well, no rookie is exceeding expectations based on their draft slot as much as Justin Jefferson. This was an A+ pick.
---
Round One, Pick #31

The Actual Pick: Jeff Gladney (CB)
The Redraft Pick: Jeff Gladney (CB)
The Vikings drafted Jeff Gladney after trading down from the 25th back to the 31st pick and picking up the 49ers' fourth and fifth-round picks in the process (the 117th and 176th picks, respectively, which became D.J. Wonnum and K.J. Osborn). Compared to Jefferson, this pick is a lot more debatable.
Gladney has flashed on some highlight-reel plays, but he's also been quite a liability in coverage: On 294 coverage snaps this year, he's given up 478 yards (fifth-most in the NFL) and five touchdowns (tied for most in the NFL).
But the flashes from Gladney have been encouraging. He is coming off the best performance of the year against Detroit:
Gladney also ranks as first in the NFL among cornerbacks in run defense grade and has one of the better tackling grades. Among the 18 rookie cornerbacks who have played at least 100 snaps, Gladney ranks ninth in coverage grade but third in overall grade (and second if you limit the list to starting cornerbacks).
Eight games into his rookie season, Gladney is showing the same traits we highlighted over the summer: elite speed, excellent click-and-close and feisty ball production but inconsistent or late route recognition, poor press technique and an overwillingness to give up inside releases.
So would the Vikings change this pick? There is an argument for Jaylon Johnson, who made PFF's all-rookie team over Gladney due to great ball production and who also made Dane Brugler's Midseason All-Rookie team. And there is also an argument the Vikings might prefer Antoine Winfield Jr. given their lack of depth at the safety position, although despite a strong start, Winfield Jr. and Gladney grade out similarly. But while Gladney has really struggled in coverage, so has pretty much every rookie, and right now Gladney is outgrading every starting cornerback taken after him.
So while it's been a trial by fire so far for Gladney, ultimately the traits are there along with some signs of improvement to be willing to bet on Gladney's upside at a position of both great need and high value.
---
Round Two, Pick #58

The Actual Pick: Ezra Cleveland (OT)
The Redraft Pick: Ezra Cleveland (OT)
It's a sign of a great draft that even in a redraft, you would not change any of your first three picks, but that is how the Vikings' 2020 draft has unfolded so far. We wrote about Cleveland's upside over the summer, and wrote last week about how the early returns on Cleveland look even better than anticipated.
The flashes are there and then some:
Cleveland currently grades out as the second-best rookie guard and fifth-best rookie offensive lineman, and with his athleticism there is reason to believe that grade and ranking will continue to improve over time.
That said there is certainly a case to be made against drafting Cleveland. Cleveland currently ranks 17th of 21 rookie offensive linemen in just pass blocking grade, as he has given up a sack, four QB hits and two other pressures on just 83 pass blocking snaps. As we wrote last week, Cleveland has a bad tendency to overset and to catch defenders, and while he has demonstrated plenty of athleticism to recover, he is not yet equipped to counter pass rush technicians who beat him off the snap.
Onwenu and Damien Lewis currently rank as the best and second-best rookie offensive lineman by PFF grade, but neither are well-suited for the wide zone scheme the Vikings currently employ. Several players taken shortly after Cleveland could also make sense, such as Neville Gallimore, Jordan Elliott or Julian Blackmon, but neither defensive tackle has played well yet. Blackmon has played well for a rookie, but for a team like the Vikings that has had a lot more success plugging and playing safeties than offensive linemen, we're sticking with Cleveland here given his strong start, upside, scheme fit and positional value as the potential left tackle of the future.
---
Round Three, Pick #89

The Actual Pick: Cameron Dantzler (CB)
The Redraft Pick: Cameron Dantzler (CB)
Four picks in and the Vikings are four-for-four so far. Dantzler was a boom-or-bust draft pick with first-round tape but two glaring question marks regarding his 4.64-second 40-yard dash at the combine and his lightweight frame. As Pro Football Focus' lead draft analyst Mike Renner put it, "If you could guarantee me Dantzler could add 15 pounds of muscle, he'd likely be the second cornerback on our draft board."
Dantzler put together an extremely impressive camp, earning a starting cornerback job despite his draft slot, and so far in the NFL his lack of blazing speed and body armor has not doomed him. But despite that strong camp, Dantzler has had some issues in coverage, having given up four touchdowns in just five games (missing three others with injuries). He competes well and does not give up much separation, instead struggling with playing the ball or getting outleveraged at the catch point. That lack of bulk also shows up in the run and screen game, where Dantzler has made some impressive stops but has also missed some tackles or gotten blocked out of plays.
Dantlzer's overall grade ranks sixth of the 11 rookie corners who have played 250 snaps, and the five cornerbacks above him were all drafted earlier. While Dantzler's ceiling may not be as high as Gladney's given his lack of elite athleticism and bulk, Dantzler is also just a few technical refinements away from being a very solid cornerback in coverage, and it's hard to argue with the value of finding a starting outside corner at the end of the third round.
There are some rookies taken shortly after Dantzler who have shown well, such as New York Giants' tackle Matt Peart or Cleveland Browns' tight end Harrison Bryant, but given the need and positional value and Dantzler's strong camp, there is good reason to believe the Vikings' starting corner's best days are ahead, and we'd stick with his selection as well after eight games.
---
Round Four, Pick #117

The Actual Pick: D.J. Wonnum (DE)
The Redraft Pick: D.J. Wonnum (DE)
Make no mistake, Wonnum is not a great player just yet, but he has all the tools to get there someday, and he did record the game-winning strip sack in Lambeau:
Wonnum made Dane Brugler's midseason All-Rookie team behind only Chase Young for rookie edge players, and Wonnum's 10 pressures are the most of any rookie edge defender outside of Young. Granted, most of those pressures are clean up pressures that come late in the play as a result of Wonnum's motor and the quarterback holding onto the ball too long.
Wonnum is still very much a developmental player, as right now he does not appear to rush with much of a pass rush plan, and if his long arm or rip don't land he doesn't seem to have much of a Plan B. But he certainly looks the part, with Stretch Armstrong arms and a get-off like he's fired out of a cannon. Once Patterson gets Wonnum to understand how to deploy those traits, Wonnum has the chance to be an above-average starter, and in the fourth round, that's a great pick.
---
Round Four, Pick #130

The Actual Pick: James Lynch (DT)
The Redraft Pick: L'Jarius Sneed (CB)
Minnesota obtained this pick along with the 169th (which became Harrison Hand), 203rd (Blake Brandel) and 244th picks (Nate Stanley) in exchange for the 105th pick (Adam Trautman).
James Lynch was a promising prospect and one of the Vikings' bigger steals during the draft, but unfortunately so far he's failed to live up to expectations, having only been active for three games and only playing 32 total snaps this year despite some unimpressive competition at the Vikings' defensive tackle spot.
He did flash an impressive sack off a bull rush in Seattle, however:
Lynch still has plenty of time to turn things around, the same way Ifeadi Odenigbo did after initially being cut by the Vikings, but the early returns are disappointing enough to leave the Vikings reconsidering this choice.
L'Jarius Sneed has been very impressive for the Chiefs at outside cornerback, showing good feistiness at the line of scrimmage, fantastic ball skills and elite straight-line speed:
On 91 coverage snaps, he's given up only 60 yards and has two interceptions, for a passer rating allowed of just 26.6.
---
Round Four, Pick #132

The Actual Pick: Troy Dye (LB)
The Redraft Pick: Tyler Johnson (WR)
Troy Dye was a really exciting prospect, as we've written about before, but has unfortunately missed a number of games this year on injured reserve due to a foot injury. His calling card as a prospect was his coverage ability, and Dye has done well enough here, with no real splash plays to show for it yet — but no rookie lowlights either.
Dye's problem has been mistakes in his run fits, where he will fill the wrong gap, fail to scrape over the top of runs or fail to disengage from blockers. It's led to a number of solid gains against the Vikings and is the main reason I think the Vikings can find another linebacker later in the draft.
Tyler Johnson has done fairly well in Tampa Bay, having already recorded two touchdowns, three forced missed tackles and 118 receiving yards:
Johnson has particularly impressed at the catch point and in his routes, same as he did at Minnesota. While his lack of athleticism limits his ceiling somewhat, the Vikings could use an upgrade at the WR3 spot, and Johnson would provide exactly that.
---
Round Five, Pick #169

The Actual Pick: Harrison Hand (CB)
The Redraft Pick: Kamal Martin (LB)
Harrison Hand has actually been pretty impressive in coverage as a rookie, showing precocious route recognition and good ability to drive on the ball, ranking as the fourth-highest-graded rookie cornerback on rotational snaps:
Hand's lack of agility or other standout athleticism limits his ceiling as a player, but as the Vikings' injuries this year have shown, you can never have too many cornerbacks on your roster.
However, given that in this scenario the Vikings already drafted Gladney, Dantzler and Sneed and passed on Troy Dye, Kamal Martin makes a lot of sense. Martin has shown very well in the 71 snaps he has played this year, grading out as PFF's second-best rookie linebacker and making some great plays in the run game:
---
Round Five, Pick #176

The Actual Pick: K.J. Osborn (WR)
The Redraft Pick: Michael Onwenu (OT/OG)
Osborn was largely drafted for his special teams ability, and he has won the return job both on kick and punt returns. He has done a solid-enough job in those roles, with 17 total returns and no muffs. Osborn shows generally good vision and decision-making with his returns and grades out just slightly above average compared to all other NFL kick and punt returners.
And he has some potential as a wide receiver:
However, there are better return specialists available in this draft, and moreover, it is hard to pass on Onwenu, who happens to the highest-graded rookie in the entire 2020 class and plays a position of need. While it's true that Onwenu is not a great scheme fit for Kubiak's wide zone offense, he does show some good movement skills and absolutely destroys defenders in the run game:
---
Round Six, Pick #203

The Actual Pick: Blake Brandel (OT)
The Redraft Pick: Isaiah Rodgers (S)
Blake Brandel was an intriguing prospect. He played four years at Oregon State and in 2019 allowed the lowest pressure rate in the FBS, but a lack of athleticism and flexibility raised questions about whether he could stand up against NFL pass rushers. Those problems manifested themselves in camp, as Brandel struggled to compete beyond the third team and was cut at the 53-man roster deadline. He is currently on the Vikings' practice squad, and as good as his college production was, his issues are the kind that may be difficult to fix.
Isaiah Rodgers makes the roster largely as a returner, where he would take K.J. Osborn's spot, though he has played well in just 36 snaps as an outside cornerback for the Colts this year. Rodgers has a slight build at 5'10" and 170 pounds, but he showed great speed, route anticipation and ball production at Massachusetts, and he's so far been one of the best returners in the NFL:
Rodgers has the second-best return grade in the NFL among players with at least 10 returns, behind only Cordarrelle Patterson. That, plus some interesting upside as a cornerback, make him a good choice over Brandel.
---
Round Six, Pick #205
The Actual Pick: Josh Metellus (S)
The Redraft Pick: Josh Metellus (S)
There is an argument to take Washington's Kamren Curl here over Metellus, given that Metellus did not make the initial 53-man roster (but made it back to the active roster after Week 1), whereas Curl not only made Washington's initial roster but earned significant playing time right out of the gate. Curl, however, has not played particularly well even for a rookie, and Metellus has more athleticism to boost his long-term potential.
Metellus is still working on route recognition and transition which limits his range as a deep safety despite solid speed, but he is a tough, physical safety with some traits to suggest he could at the very least provide solid depth at the position.
---
Round Seven, Pick #225

The Actual Pick: Kenny Willekes (DE)
The Redraft Pick: Jonathan Garvin (DE)
Willekes was an intriguing draft choice by the Vikings who was second only to Chase Young in total pressures in college since 2018, but who also has a very limited ceiling as a mediocre-at-best athlete with very poor arm length. Still, Willekes found a way to win in college with smarts, quickness and relentless effort, and it will be interesting to see if he can carve out a role next year following his season-ending stint on injured reserve.
Willekes was a good pick, but in a complete redraft I would be inclined to select Jonathan Garvin instead given Garvin's much-higher ceiling. Garvin is a long, explosive athlete with good bend and the potential to be an above-average player once he develops better instincts and technique. And as raw as he is, Garvin has still earned rotational snaps in each game so far for the Packers, which for a developmental seventh-round pick is always an encouraging sign early on.
---
Round SEVEN, Pick #244
The Actual Pick: Nate Stanley (QB)
The Redraft Pick: Tershawn Wharton (DT)
Nate Stanley failed to make the Vikings' active roster but did earn a spot on the Vikings' practice squad, along with, oddly enough, the Vikings' third-string quarterback last year, Jake Browning. Stanley has very good arm strength even by NFL starter standards, and he looks the part at 6'4″, coming from a pro-style offense at Iowa, but his main issue is lack of NFL-caliber accuracy. That's a hard problem to fix, and failing to make the Vikings' active roster despite limited competition at the backup spot is not encouraging. But given how valuable the quarterback position is in the NFL, it's difficult to fault the Vikings for buying a lottery ticket with Stanley given the upside.
On the other hand, Tershawn Wharton went undrafted as a zero-star recruit out of high school and Division II prospect out of Missouri S&T, but the late bloomer has already done some serious damage for the Chiefs as a 3-technique and 1-technique defensive tackle. He has short arms and is undersized, but makes up for it with excellent quickness and effort and that shows both in the run game and passing game:
Wharton made PFF's Midseason All-Rookie team, has a top five grade among defensive rookies, and his 11 pressures ranks fourth among rookies. Wharton would have a good shot at being the starting 3-technique on the 2020 Vikings, which makes him a heck of a pickup at this stage in the draft.
---
Round SEVEN, Pick #249
The Actual Pick: Brian Cole II (S)
The Redraft Pick: James Robinson (RB)
Despite a dearth of talent at the safety position, Cole was the only rookie of the Vikings' 15 draftees to not land on the active roster or practice squad. He's currently on the Miami Dolphins practice squad, so not a complete misfire by the Vikings' front office, but they can easily do better in a redraft.
James Robinson has made a heck of a splash in Jacksonville as an undrafted free agent: His 580 rushing yards are the sixth-most in the NFL, and he's added 225 yards through the air as well. Despite a pair of fumbles, Robinson has proven to be a very effective weapon, grading in the top 10 in PFF rushing grade:
As you can see, Robinson shows great power and contact balance and has also demonstrated good vision and sufficient one-cut agility to succeed as a rusher or screen/checkdown threat. Running back is neither a position of need nor a position of high value for the Vikings, but Robinson is too talented to pass up at this point.
---
Round SEVEN, Pick #253
The Actual Pick: Kyle Hinton (C)
The Redraft Pick: Kyle Hinton (C)
Hinton is a super athlete who was one of Dane Brugler's favorite small school prospects. He had a solid camp but was ultimately waived and signed to the Vikings' practice squad. However, he has some upside to develop into a potential interior offensive lineman down the road.
---
Final Redraft
So how does the Vikings' 2020 draft class change in a redraft? The full results are below, with new additions marked in bold:
Round One, Pick 22: Justin Jefferson (WR)
Round One, Pick 31: Jeff Gladney (CB)
Round Two, Pick 58: Ezra Cleveland (OT)
Round Three, Pick 89: Cameron Dantzler (CB)
Round Four, Pick 117: D.J. Wonnum (DE)
Round Four, Pick 130: L'Jarius Sneed (CB)
Round Four, Pick 132: Tyler Johnson (WR)
Round Five, Pick 169: Kamal Martin (LB)
Round Five, Pick 176: Michael Onwenu (OT/OG)
Round Six, Pick 203: Isaiah Rodgers (S)
Round Six, Pick 205: Josh Metellus (S)
Round Seven, Pick 225: Jonathan Garvin (DE)
Round Seven, Pick 244: Tershawn Wharton (DT)
Round Seven, Pick 249: James Robinson (RB)
Round Seven, Pick 253: Kyle Hinton (C)
So it turns out the Vikings really did nail their first five picks, which are by far the most important picks. After that, they managed to find a couple players with some upside, but in a redraft we instead find a very good starting guard, a potential starting 3-technique and some very solid rotational players. But the fact that there aren't any glaring misses in the Vikings' initial draft is a great sign that eight games into their season, this Vikings 2020 draft class is living up to its billing as one of the best draft classes this year.