Mailbag time!
If you have future mailbag questions, you can email them to Dmoore@zonecoverage.com or to @DaneMooreNBA on Twitter. We'll do this on Wednesdays going forward.
What about starting Gorgui Dieng at the center spot and Karl-Anthony Towns at the 4? I feel G has been a really good center anchor to the D. — Chase Rambow
This was a very common question. Rightfully so; Gorgui Dieng has been terrific of late.
Since Christmas, the Wolves have won four of the seven games they've played, fueled by the best defensive rating in the NBA over that stretch (97.4). With Dieng on the floor in those games, the defense has been even better (93.6) — leading the Wolves to having outscored their opponents by 14.0 points per 100 possessions in the 200 minutes Dieng has been on the floor. In place of Karl-Anthony Towns as the tentpole of the defense, his more disciplined style has led to opponents to only convert 40.0% of shots they have taken from within six feet of the hoop when Dieng is in the game. Opponents are shooting 47.2% from the same range when Towns has played this season.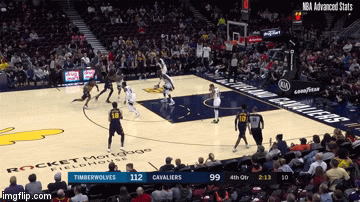 Dieng's offense has also joined the party of late. Over the past five games, Dieng has averaged 13.0 points and 3.0 assists per game, making eight of the 20 shots he has taken from deep (40.0%). This boost from 3-point range, not only in effectiveness but also volume, makes the strongest case for Dieng to share the floor with Towns. Dieng has become a legitimate stretch big.
After only taking 6.8 percent of his field goal attempts from deep during the first six years of his career, 41.3 percent of Dieng's shot attempts this season have been 3s. The influx of 3-point attempts comes from Dieng now taking them from the above the break portion of the floor. In just 575 minutes of playing time this season, Dieng has already taken more above the break 3s this season (57) than he did the previous six years of his career combined (47). Dieng told me in early December that this past summer was the first of his career that he was asked to practice taking that shot in the offseason. Now, those shots have become a big portion of his every day shooting routine.
At the end of the day, the Wolves want the four players that surround Towns to be able to do three things: space the floor; embrace their defensive assignment; and play with pace. The only box Dieng doesn't check with a bullet is the last one. Dieng remains somewhat lumbering, and his athletic profile doesn't emulate the archetype of player the Wolves envision flanking KAT in the frontcourt now or into the future. That archetype looks like Robert Covington.
That said, with an imperfect roster, Dieng has made a case for Ryan Saunders to bend the rules. And it sounds like Saunders is warming up to the idea of playing two bigs next to each other.
"I'm also not counting out that — if you consider those guys two bigs — maybe there's some minutes where they play a little bit together," said Saunders at practice this past Saturday. "Because you can stretch Naz (Reid) a little bit, stretch KAT a little bit. So I guess I don't necessarily consider those guys full-on fives."
My best guess is that the Towns and Dieng pairing does eventually get some run. But I would not assume that to be in a starting capacity. As of now, all signs continue to point to a continued commitment to the Towns-Covington frontcourt pairing.
My question is about G as well, what should they do with him, and how do other teams around the league view him? He is productive when he plays and seems to be a good teammate and character guy. A team like the Hawks could use someone like that around their youngsters. — Jared Schei
This is a good question because with Dieng's additional production the perceived value of his contract has certainly improved. Atlanta is also an interesting team to think about as a potential landing spot.
Dieng's contract pays him $16.2 million this season and $17.3 million next season. Including Dieng, Minnesota currently has $101 million in guaranteed salary on the books for next season. If Gersson Rosas could get off that $17.3 million, functionally, there would be about $21 million in cap space to work with this summer. That additional flexibility would be attractive no matter how well Dieng is playing. That much money to a KAT backup just doesn't make sense.
Say the Wolves were able to attach a pick to Dieng in exchange for Evan Turner ($18.6 million) or Allen Crabbe ($18.5 million) from Atlanta, both of whom are on expiring deals, the Wolves would gain that flexibility. What sort of outgoing draft capital is worth gaining $16 million of additional cap space? That's the question.
Dieng would be an interesting fit in Atlanta, too. The Hawks are reportedly pursuing a different expensive center, Andre Drummond, who has a player option for $28.6 million next season. What would the pick attached to Dieng have to be to become more attractive to Atlanta than Drummond is? Trae Young has a skillset that fits with a rim-roller like Drummond but it's not like a pick-and-pop guy would hurt. Dieng has been thriving in two-man game situations with Shabazz Napier, and Young is Napier on all of the steroids.
Other than John Collins and Kevin Huerter, Dewayne Dedmon was the teammate Young was most successful with last season in terms of net-rating. Dedmon and Dieng are the same archetypes as big men. Dedmon's stats on a per-36 minute basis last season in Atlanta: 15.5 points, 10.7 rebounds, 38.2% from 3. Dieng's per-36 minute stats this season: 15.1 points, 11.6 rebounds, 35.8% from 3.
What is your view on the timing of the return (for Karl-Anthony Towns)? Do the Wolves not realize that failing to give proper updates just creates more negative news, rumor mill, etc? — Jonathan Belz
This was also a common question, and I think it's a fair one.
Timberwolves fans seem to be feeling yanked around by what has now been an 11-game absence for Towns. The pattern of Towns being listed as questionable only to be ruled out right before game time has broadly been in motion since Towns got hurt on December 13th. For fans, this has at best been confusing and at worst been misleading.
On one hand, the ambiguity makes sense. I'm sure it's hard for opponents to need to make multiple gameplans — one with KAT and one without KAT. But what is the edge there, really? If the Wolves are taking every angle to nominally boost their odds of winning every game, why are they running a five-out offensive system that asks numerous below-average shooters to jack up 3s? That's about the future and not about winning now, right?
I don't know — I think communication and transparency are probably the problems here. Ambiguity is frustrating for fans. If KAT's injury is ambiguous in nature that could have been clarified. Without clarification, this has just become an indefinite cliffhanger.
Take the Jake Layman injury, as another example of frustration. Layman has turf toe, a ligament sprain to the big toe. As it is with sprained ankles, there are degrees to toe sprains. The degree of Layman's sprain has never been clarified. The party line the entire time has been something along the lines of Jake is improving every day.
This one is frustrating for me, personally — because I've had turf toe twice. Both times my foot doctor told me right away that I'd be in a walking boot for a month, probably not playing again for six to eight weeks. There is definitely a difference between the recovery time of a basketball blogger and a professional basketball athlete. I understand that. But my point is that my time table was immediately definitive.
Rushford.org says there are three types of turf toe for professional athletes:
Grade 1: Slight pain, no tear of the ligaments in the joint. Result: Player can return to the game or maybe miss a little action.
Grade 2: Modern pain, partial tear with some bruising. Result: Players misses several days or up to two weeks.
Grade 3: Considerable pain, complete tear with swelling, bruising. Result: Player out 1 to four months.
Again, my point is just that the team could have been more transparent about the degree of the injury Layman suffered. Maybe KAT's knee sprain carries a more ambiguous recovery timeline than turf toe. If that is the case, that ambiguity could have been named. I don't think any of the fans are mad at Towns for getting hurt; they're more so frustrated by not knowing how hurt he is.
Andrew Wiggins recently missing four games with flu-like symptoms was similarly peculiar. Going eight days without playing in a game seems like a lot for the flu. But maybe the flu was terrible. We don't know. No one clarified that. Earlier in the season when Wiggins missed a different game with the flu, he explained that he caught it while taking care of his sick daughter. That clarified things; it prevented the mind from wandering. Jeff Teague also missed four games with an illness in November that he said required stitches to recover from. Left unclarified, that likely confused fans, too. Shabazz Napier missed 12 games earlier in the season with a hamstring injury. There was never a public timetable set for his return. Also confusing.
I don't think the Wolves are doing anything malicious here. Perhaps they've just underestimated how the ambiguity impacts those following the team. It's only natural that without a guideline that a fan will draw parallels to what happened with Robert Covington last season. If it is known that Towns is not going to miss extended time, that should be named. Some clarity on what "close" means would be helpful. I understand the frustration while also acknowledging that the Wolves haven't broken any rules in the process.
What do you think is most likely to be the full-health starting 5 when Towns gets back? — Justin Pinotti
One way or the other, Towns is eventually coming back. And when he does, this is a good question.
With only Towns and Layman sidelined for the last two games, the starters have been Napier-Culver-Wiggins-Covington-Dieng. My assumption would be that Towns simply slides into that Dieng role. As mentioned above, I highly doubt Saunders begins starting two traditional bigs even though Dieng has legitimately been very good.
The trickier question: What happens when Layman is also back? Does he go into the starting lineup once he gets his wind back? Maybe Saunders again goes with a starting lineup that has no true point guard (Wiggins-Culver-Layman-Covington-Towns)? My best guess: Layman goes back to a sixth-man role, sticking with Napier as the starting point guard.
A deeper cut: How deep does the rotation go when Towns and Layman return? Even with Towns and Layman out, Saunders has gone 11-deep in these last two games — playing Teague, Vonleh, Okogie, Bates-Diop, Martin and Reid off the bench. At least two of those guys figure to get pinched out. Bates-Diop, who has been filling the Layman role, is the most obvious candidate for demotion (not based on performance) when Layman returns. Reid, who has been a poor man's KAT, would likely be the other player who feels the pinch. And with Layman and Towns sure to play more minutes than Bates-Diop and Reid have been, I'd guess Martin and/or Vonleh also fall out of the rotation to make up for the minute differential.
If you can't trade Jeff Teague by the deadline do you buy him out? — Paul Hartman
The roster crunch described above is starved for some sort of trade that sends out more players than it returns — a 2-for-1 or 3-for-2. If that type of trade doesn't come to fruition, a 1-for-0 move likely transpires. If more teams had cap space, it would make sense that Treveon Graham or Noah Vonleh would be traded into that space for some distant second round pick and no returning salary. But Atlanta is the only team in the league that currently has cap space, and they only have $4.8 million of it.
Another 1-for-0 option would be waiving a player. Kelan Martin will soon run out of the 45 days his two-way contract affords him to play with big league club. Whenever that expires, the Wolves will need to waive one of their guaranteed contracts if they want to keep Martin on the roster. If not, they'll have to cut Martin loose. Being as Martin is currently in the rotation, his removal seems less likely than cutting a player on the roster that is already out of the rotation. Jaylen Nowell, whose contract is not guaranteed beyond this season, has spent the majority of the season in the G-League. He could be waived. Treveon Graham, who is on an expiring deal, is also out of the rotation. It would also be easy to waive him.
But as Paul alludes to in his question, Jeff Teague seems like another 1-for-0 option. With a salary of $19 million, it's more likely that Teague would be bought out rather than simply being cut. This happens all the time for vets like Teague. If the Wolves aren't able to find a trade partner for Teague, this is probably the most likely path. It's going to be hard for the Wolves to make a deal work with Teague at that salary number.
My best guess for how the Jeff Teague soap opera concludes: He wins an NBA championship with the Los Angeles Lakers after being bought out by the Wolves after the deadline.
Given the success of the team with the G-League guys contributing in a positive way, what direction do you see the team going the rest of the season? They currently are fighting for the eighth seed but we know Rosas has more long term goals. Do you see them as buyers or sellers as we get closer to the deadline? — Dylan Georgopoulo
After losing in Memphis on Tuesday night, the Wolves are 14-22. Somehow this means that they are still only 1.5 games behind the San Antonio Spurs, who currently hold the eight-slot in the West. The catch, though, is that there are three teams that sit between the Wolves and the Spurs — Memphis (16-22), Portland (16-22) and Sacramento (15-23).
Fivethirtyeight.com forecasts the Wolves going 21-25 for the rest of the season, finishing 35-47 with a 14 percent chance of making the playoffs. CleaningTheGlass.com projects that the Wolves finish the season with a 36-46 record. (That Vegas over/under of 35.5 is looking smart.) This is all to say that the Wolves are a pretty serious run away from being a playoff team. That type of run isn't impossible. More probable, though, is finishing as the 10 or 11 seed in the West.
This reality on the surface makes the idea of tanking the ending of the season feel somewhat palatable. But the feeling within the organization is that this team is too good to tank if Towns is healthy. He'll win too many games on his own to meaningfully move their lottery odds. My best guess would be the closest thing we see to tanking is prioritizing a style of play that does not fit the skillsets of the players on the roster. That's been happening all season, and they're currently 1.5 games out of the playoffs with Towns having missed a third of their games.
This presents an interesting set of variables as it pertains to the trade deadline. I think the Wolves will be buyers at the deadline, but not in the traditional sense. I think they'll pursue moves that help construct a roster that better fits this style of play they crave. In that pursuit, I highly doubt this front office sacrifices draft assets to land a player if that player is not both a system fit and the type of player that could become a star on this team.
Without moving draft assets this type of deal would look more like a swapping of role players. For example, would the Lakers be interested in the defensive prowess of a Treveon Graham or Noah Vonleh in exchange for the shooting chops of Troy Daniels (a career 40% shooter from deep who doesn't really crack LA's rotation)? Something like that.
Gersson Rosas and company will certainly be aggressive at the deadline, and I'm willing to bet that this time it leads to action — even if that is just movement on the fringes.