After a pair low-scoring losses on the road, the Timberwolves returned home, where they apparently had left their form.
By the time the second quarter hit, it was clear that the Wolves were going to put the New Orleans Pelicans away very, very early.
A fourth-quarter run halted the game from becoming a blowout of franchise-historic proportions, but the Timberwolves still managed an 18-point victory over a tough Western Conference opponent.
Most importantly, when the game was going well for the Wolves, it looked familiar. As time goes on and the wins keep piling up, a certain formula for success seems to be forming.
"For us, we can't look ahead, we can't look behind," head coach Tom Thibodeau said after their Saturday night victory. "Just concentrate on what's in front of us. The important thing is the improvement."
As bad as they looked offensively against Brooklyn and Boston, the Timberwolves have been a new team over the last 11 games. When including Saturday's win over New Orleans, they're 9-2 and feature a top-five offensive rating and a top-10 defensive rating.
Saturday's win marks the fifth straight time the Wolves have held their opponent to under 100 points. They have a top-two defensive rating in that span.
Top two.
They've gotten to this point in a few different ways, and much of that was put on display on Saturday. The team's star, as usual, was the key cog.
Jimmy Butler, the likely All-Star who received more MVP chants Saturday, finished the game with 21 points, seven rebounds, and eight assists.
Butler's All-Star presence has been a clear mainstay since late November, but his ability to play off of guys when they're feeling it has been one of the key factors lately.
Especially since Karl-Anthony Towns found his way.
Towns got a break as well, but managed to break out of his funk this season against New Orleans.
Coming into the game, trouble and general invisible presence led him to a 6.5 point per game average in the two previous contests against New Orleans. On Saturday, he had 15 points by halftime, and finished with 21 and 13 rebounds on just 11 shots.
"Yeah, it was nice to see him play a game against New Orleans," Thibodeau joked, referencing Towns' foul troubles resulting in lower minute totals.
He did get serious later on, though.
"He's playing a really strong all-around game right now," Thibodeau said. "He's seeing things, he's making great plays out of the post, and it's adding another dimension to our offense."
(Warning: The video below is NSFW)
"You've got to stay mentally strong, understand what the gameplan is coming in," Towns said Saturday. "You have to trust maturity will set in when you stay disciplined to the gameplan defensively and offensively."
More than anyone else, Towns might be the one spurring this intense turnaround from the Wolves, especially defensively.
As Zach Harper writes at FanRag Sports, it's hard to quantify individual defense, but the metrics that try are very favorable to Towns.
For Towns' defense, the eye test has been his friend, too. He's learned how to stay in front of his man, and has done a much better job adapting to off-ball defense and finding the loose end.
The most flamboyant part of post defense, though, are the blocks. Towns is doing more of that – and did that against New Orleans Saturday.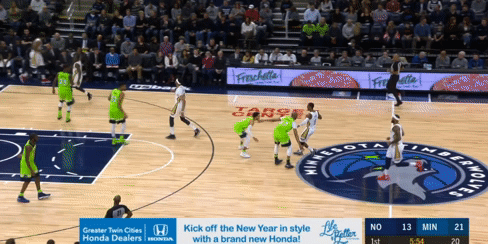 And while the Pelicans did go on a big fourth quarter run to keep the game from being a complete disaster, all the core elements of a newly-routine Timberwolves victory stayed intact.
Butler and Towns played superstar basketball, Wiggins was an aggressive third option, Taj Gibson played physical ball and played off the stars, Tyus Jones moved the ball and pushed the pace, and the bench did just enough to keep their lead strong.
"The more we're locked in, the more the sense of urgency we have," Gibson said after the win. "Defense plays a big part in it."
This win isn't one that represents the tough schedule they have coming up, but the current eight-seeded Pelicans are no slouch. With Cleveland coming to town on Monday, this was a win they needed to grab to regain their confidence.
Right now, the wins look smoother, more fluid and cohesive. The defense is better. Their ability to beat the superior competition they have coming will be the ultimate test of what's been working.
Beating a team with Anthony Davis and DeMarcus Cousins is big; creating a routine in winning is even bigger.
It's not done yet, but it's getting there.
---
How Well Do You Know The Twins?
Take the Twins quiz and test your knowledge!
Take Quiz