Yet again, the Timberwolves lost a lead to a lowly Eastern Conference opponent on the road.
And yet again, the Timberwolves were unable to pull out a win.
The Wolves have proven themselves to be one of the best teams in the NBA. At certain stretches, they've looked like a top-two roster, most specifically a month-long stretch that spanned from mid-December to mid-January.
At that point, they notched one of the best defensive ratings in the NBA and led the league in net rating. They were beating teams by clamping down on defense, and were winning by big margins as a result.
But since Jan. 15, the Timberwolves have the second-worst defensive rating in the NBA, and have losses to three of the worst Eastern Conference teams in the league on the road. They have only won five of that stretch's 13 games.
Friday's game was especially frustrating because it was supposed to be Jimmy Butler's "revenge game."
Butler doesn't have anything but love for his old team, as he said after the game. He did score 35 points and played a major role in the 17-point lead the Wolves built in the third quarter, but he also clanked his way into poor fourth-quarter numbers.
He alone didn't lose the game for the Wolves; in fact, he was one of the key reasons they were in it at all. But his desire to take over the game late, and the missed shots that followed made it hard for the Wolves to win.
The defense was as bad as it's been over the last three weeks, but the Wolves also couldn't hit their shots. They missed six their final eight shots over the game's few minutes.
"We started playing lazy, not doing what we're supposed to do, making stuff up on the fly," Butler said. "It went downhill really quickly."
The Wolves will continue to – and should – trust Butler to take big shots down the stretch. Had they gone in, it wouldn't have been the first time Wolves – and Bulls – fans would have witnessed a heroic performance.
But it might have been the first one of Zach LaVine's young career as a Chicago Bull. But it didn't come without a fight for Chicago's more recent star.
It went back and forth for the games final few seconds. It started with an in-rhythm LaVine shot that Wolves fans have grown accustomed to.
Any Wolves fan that saw it instantly remembered the confidence LaVine has when going up for the shot. He shot 42 percent from deep off the catch in his last season in Minnesota, adding to this make's familiarity.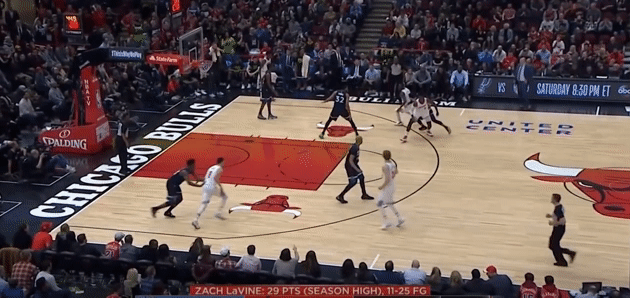 Butler followed up with a play that was much more of his style. He's not known for scoring off the catch the way LaVine is. He's much more physical and skilled at getting into the paint to get his buckets.
He did that on the very next play.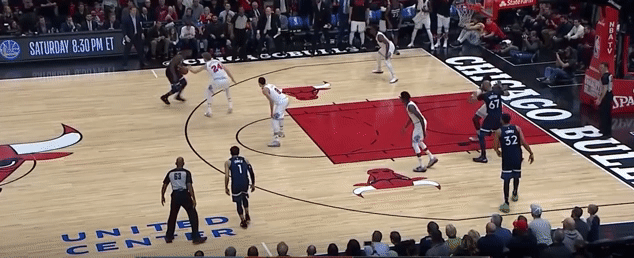 The final play that really mattered was the most peculiar one of the game. Butler made a mistake on the defensive end.
With just a few seconds to go, Butler fouled LaVine for 3.
LaVine has very few clutch moments in his NBA career – certainly fewer than Butler – but he won the duel on Friday against his old team. In the battle of "revenge games" – even though both players had nothing but nice things to say about their old teams – LaVine came out victorious.
"At first he was on fire," LaVine said of his matchup with the All-Star. "So [I had] a little catching up, but we definitely fought our way back. I got my points on him, he got some on me."
While LaVine, Butler, Taj Gibson and Tom Thibodeau likely had fun catching up with old friends from former teams, there was still obvious concern from the Wolves head coach.
When the losses are as bad as the one they experienced on Friday, interactions with the media tend to be shorter, and more to the point.
"We're not good enough to think the game is over five minutes into the third quarter," Thibodeau said. "When you do that, we messed around, we played with fire and got burned."
As good as the Wolves have been this season relative to previous seasons, the bad losses on the road may have piled up too high. Thibodeau's next task will be to figure out how to get the defense back to the way it was in December and January, and how to get his team to take every opponent seriously.
"Got to play for 48 minutes," Thibodeau said. "Everyone in this league is capable of beating you."
Friday's game was one filled with positive interactions, a touching tribute video, and some nostalgia for a pair of fanbases. But it ended in another bad Timberwolves loss.
The Wolves remain a scary team to match up against, but with losses like this, they will continue to be seen as beatable. Even if they're able to extend their home win streak to 13 games on Sunday against the Sacramento Kings, they need to do more to rid themselves of this reputation.
Even though the Timberwolves will continue to be regarded as one of the better teams in the league, their loss to the Bulls wasn't seen as a total surprise.
The reunions are fun, but wins are even better. Especially when they're as getable as they were on Friday.
---