It's hard to catch Tom Thibodeau in a good mood after a game.
Even when the Timberwolves are winning – as they have been the entire year – Thibodeau's "always coaching" mindset generally has him obsessing over the things that went wrong. The things that went right, generally speaking, can be seen simply as "doing your job".
"I'm never happy," he joked after their 28-point thrashing of the Cleveland Cavaliers on Monday.
But anyone that's been around the situation lately can safely say Thibodeau has been happy lately, and it's because the Timberwolves players are doing their jobs.
What does that mean, exactly? In short, they're playing defense at a high level.
An elite level lately, in fact.
The team that has hovered around the bottom six in the NBA in defensive efficiency all season suddenly became an elite team on that end of the floor. Since Dec. 31, they haven't allowed an opponent to score over 100 points.  They've shot up from 25th in defensive rating to 16th in a matter of weeks.
The smaller sample success is even more staggering.
Time Period
Defensive Rating (League Rank)
Net Rating (League Rank)
Fast Break Points Allowed (League Rank)
Points in Paint Allowed (League Rank)
Oct. 18-Dec. 30
108.0 (25

th

)
1.9 (9

th

)
13.4 (25

th

)
45.9 (24

th

)
Dec. 31-Present
96.6 (2

nd

)
14.8 (2

nd

)
8.3 (3

rd

)
41.4 (6

th

)

The sample size remains small – just seven games in that span – but the speed in which it improved the team's statistical standing is pretty impressive.
Perhaps more important, in this case, is the way the eye test is now appealing to the common fan. The Timberwolves are winning games – lately by a wide margin – in a fun way, playing good defense, and the offense appears smoother than ever before.
It's also finally a two-star team.
While Jimmy Butler and Taj Gibson are the two that Thibodeau likes to (justifiably) turn to when referencing the cultural change, the low-end defense was still happening early while they were at their best.
Whether it's sunk in, or some external factor, Karl-Anthony Towns seems to have finally bought in, and is playing like a legitimate two-way star.
The player who has been lauded as "the next big thing" and a generational talent, who has always been the most celebrated player on his team, found himself in a new situation in October 2017.
With Butler quickly asserting himself as the alpha, Towns struggled to find his place. And with Butler's obsessive strife for perfection defensively, Towns found himself overthinking and overcommitting on that end early.
Often times, he simply wouldn't make the right decision. Whether it was fronting too early on a pick and roll or going for the block when he should stay with his man, his team was let out to dry a number of times early.
It drew criticism from all over, including Zone Coverage. Via the eye test, his body language was about as bad as his defense. And via the (advanced) stat sheet, he didn't help matters either.
In short, Towns was as bad defensively the first chunk of the season as the Wolves were. Suddenly, both are playing well. That is not a coincidence.
"I think I'm playing smarter," Towns said after their big win over the Cleveland Cavaliers, where they held LeBron James to 10 points and Kevin Love to just five. "A lot of times now, I just feel in spots better. I'm just trying to be in spots for my teammates in those little moments to cover them up."
He did that a lot a couple days later, in Wednesday's win over the Oklahoma City Thunder.
Thunder center Steven Adams has had Towns' number all year, even posting a 100 percent shooting night back in late November. This was often done by way of the pick and roll, a deadly play in the Thunder's playbook.
In the past, when they'd see Towns, they'd look to exploit it. Take this pick and roll play from their first matchup back in October.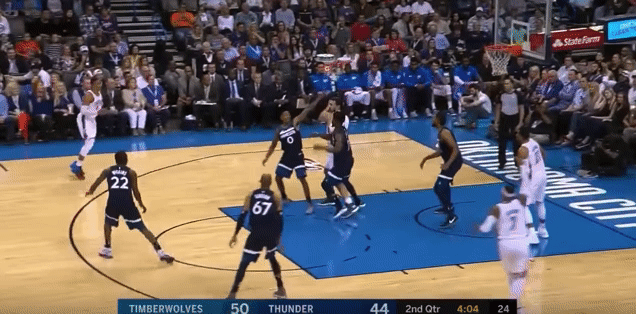 On Wednesday, Towns didn't just limit breakdowns, he prevented Adams from even getting looks rolling to the rim. Adams only attempted five shots in that game (he averages 9.0 attempts per game), and missed three of them.
And when Adams did get looks, Towns was there to defend. Adams has had good success in sneaking away for easy looks at the rim, especially in transition.
By Wednesday's finale with Oklahoma City, Towns seemed to have figured that out.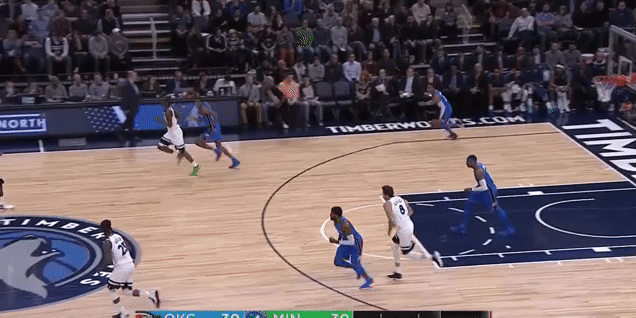 But most importantly, he is defending the pick and roll – which is especially good when initiated by Westbrook – better than ever before. He's learning when to step up on the screen, and when to drop back down to his man.
An example of this showed itself almost immediately on Wednesday. Watch Towns halt the drive for Westbrook, then get back at the perfect time to stop an Adams bucket at the rim. The play resulted in a missed contested 3-pointer in the corner from Paul George.
And, while we're at it, notice the active hands of Andrew Wiggins on the interior.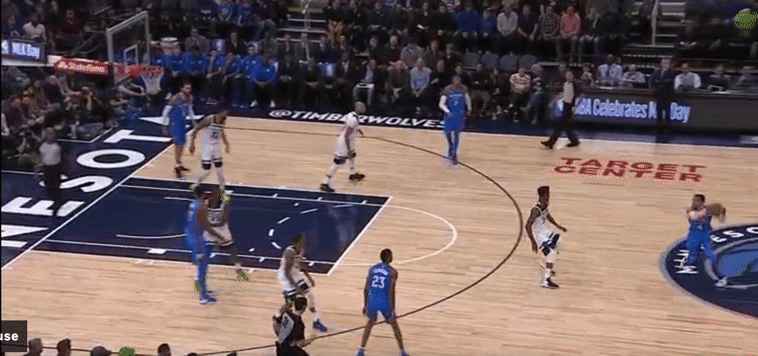 While players like DeMarcus Cousins and Marc Gasol may be better measuring sticks for a player like Towns in terms of star power, Adams, and the way Oklahoma City uses him, is a better barometer for Towns' progress.
As Zach Harper wrote at FanRag sports, the jump in production happened almost instantly. It was first put on notice when the Wolves beat the Phoenix Suns at home. On that night, he only had a pair of blocks – in-line with his season average of 1.5 per game – but his body language was better. His defense was better.
Since then, he's only gone up in terms of production.
Harper used four stats to quantify his improvements. Individual defensive stats aren't reliable like offensive stats – or even team defensive metrics, but these numbers are a solid measuring stick, were jarring when Harper wrote it.
The differences from the time of the Harper's piece to now vary, but the overall point remains.
| | | | | |
| --- | --- | --- | --- | --- |
| Time Period | Defensive Net Rating | Rim Protection | Field Goal % Against | Synergy Rim Protection |
| Oct. 18-Dec. 23 | +3.3 | 62.7% | +2.3% | 49.4% |
| Dec. 23-Present | + 16.6 | 55.4% | -5.7% | 38.9% |
| Difference | + 13.3 | -7.3% | -3.4% |  -10.5% |

Some of these numbers – like defensive net rating – have gone up with the big-margin victories the Wolves have dropped over the past few games. Others have dropped ever so slightly, but still suggests Towns' defense has gone from bad to very good without much in-between time for transition.
But considering where Towns' point A was, point B will probably look pretty good.
The season started off with Thibodeau, Butler and Gibson trying to transition their team into a defensive force as quickly as possible. At the very least, they wanted to compete on every defensive possession.
Early on, that did not happen, and Towns was part of it. He struggled to find defensive position, and struggled to find the correct place to be when the ball would start moving quickly.
Suddenly, Towns is finding success both on the pick and roll and on straight-up rim protection. He's been, at least, an above-average defensive player over the last few weeks.
In that same span, the Timberwolves have played like an elite defensive team by almost every metric. Towns and his team are now, as Thibodeau would call it, "doing their jobs."
Is it a coincidence that the individual and team successes are happening in unison? Whether it is or not, it's got to make their coach happy.
---