During Jimmy Butler's absence, Nemanja Bjelica has started at small forward and played pretty well.
In the four-game stretch, Bjelica played a brand of basketball more familiar to those that knew him as the dynamic point forward at Fenerbahçe Ülker of the Turkish Basketball League.
In the Euroleague, he was known for both his outside shooting and his ability to drive and dish as the team's primary ball distributor. While Jeff Teague and Andrew Wiggins had the ball the majority of the time with the starters, Bjelica had his chances to run some drive-and-dish, a skill no other Timberwolf does better.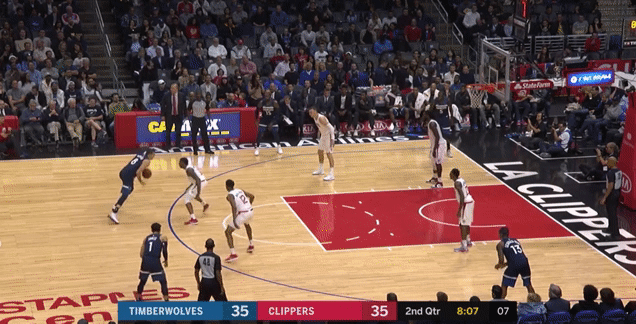 He's shooting 42.1 percent from 3-point land in that stretch, but that's not even the biggest thing here. He's taking nearly five 3s per game in that same stretch. On Wednesday against Portland, he took nine.
It's a sight for the sore eyes begging for more deep balls from the Wolves, and something many are hoping will turn into a constant rather than a temporary trend.
It's possible that a big part of this success came from playing small forward – he's played almost exclusively power forward this season – but the 32.3 minutes per game has to play a big factor.
With that minute increase, in classic Tom Thibodeau fashion, he mostly played with the starters. And that matters.
It matters because this isn't the first time the Timberwolves have made a starter look especially good. The major successes of Tyus Jones have been well-documented and likely cemented his status as a deservedly well-paid point guard when he contract expires this summer.
The Timberwolves bench features one player with a history of success in that position – Jamal Crawford has won the Sixth Man of the Year award three times – while the rest of them are new enough to the league to still be more familiar with starting roles.
That's why it's not surprising to see Jones and Bjelica succeed when they get out there with the starters. Dieng's best NBA season came last year as a starter, albeit with a different roster makeup.
Maybe it's an obvious statement, but it's worth mentioning in context: the Wolves bench looks better with the starters. Part of it is because the starters are generally better players, but a big part of it is the continuity the starting five play with.
It's fairly well-known that the Wolves' starting lineup plays more minutes together than any other five-man lineup in the league. Their 832 minutes on the floor together is first by nearly 300 minutes over the second-place Charlotte starting group.
And remember, this is with Butler missing four straight games.
With all the hoopla surrounding Thibodeau's rotations in mind, a certain level of chemistry is bound to happen as well. That helps explain why the bench always looks better with the starters out there.
When one bench guy gets thrown out there with the starters, good things generally happen.
Note: This chart does not include Thursday's game against Golden State, as the Warriors are the walking embodiment of a mathematical outlier.
This chart shows a few things:
The Wolves are generally very, very good when a bench guy mixes in with the starters, except for Gorgui Dieng. The bizarrely bad net rating could be attributed to no floor spacing among that particular personnel, slow feet, or just dumb luck. Also, Karl-Anthony Towns being absurdly good makes a difference.
The rest of the bench mixes in with the starting five extremely well. The net rating of each lineup combination – again, excluding Dieng – is near or way above the full-fledged starters roll with (7.8).
When Jones, Crawford, Bjelica and Dieng play together, the more or less tread water. And considering it's the most used lineup of the group – minus the Teague-infused starting lineup that happened due to a Jeff Teague injury – that might be something needing to be addressed down the line.
The good news here is that guys that need to progress have been.
While Jones' progress is well-charted, Bjelica's has been harder to track. An ankle injury kept him out 15 games, forcing start over from an absurdly hot start. There was a point during the first month of the season where Bjelica was the NBA leader in true shooting percentage.
Not surprising after an ankle injury, he struggled to find his footing after he got back.
Before the injury, he was very purposeful with his decisions. He'd know he was going to shoot a 3, or start a drive-and-kick, before the pass was there.
It took him a while to get back to that, but maybe the minutes jump and move to small forward have helped get him back on track.
Crawford's performance Thursday, however, proved how little time he needs to get back on track and help off the bench.
He's not the player he was in the early 2010s with Los Angeles, but he stills plays the same style when he comes into the game. He's constantly in heat check mode, and the shots he makes are ones everyone else on the team – excluding a healthy Butler, perhaps – would be terrified to take.

This is useful on games when he is on, but has proven to kill the team when he is off his game. In losses this season, he's barely shooting over 30 percent from deep and under 40 percent from the field, but his shot attempts per game in both wins and losses nearly mirror each other.
Even worse, his usage percentage is slightly higher in losses, going up from 24.5 to 25.5.
In other words, when the Wolves are down, Crawford often tries to come in and help shoot the Wolves back into the game. Sometimes it works– like he nearly did against the Warriors on Thursday – but often it hurts the team.
He's a plus player in every off-court, immeasurable way. He's a vocal leader on the bench in the locker room, and always talking to his teammates. In the game, even if he's not doing the right thing defensively, his activity and hustle are there.
And when his shot is on – and oh man, it's been on – he's essentially another All-Star-caliber offensive force for Thibodeau to close a game with.
Thibodeau hasn't closed games with Dieng like he did last season. Going from the team's starting power forward to playing almost exclusively center has hurt his production as a whole.
When he's been inserted with the starting lineup – as discussed above – it's almost always been as a center. He's only played 11 minutes all season with the starting group, plus Towns at center.
Not shockingly, those numbers – albeit a hilariously small sample size – are much friendlier to Dieng. He's much better in the game when inserted as the second-best scoring big, especially one that spaces the floor like Towns.
The one person he's found a strong connection with off the bench has been Crawford. He plays off him the same way he and Zach LaVine used to run their two-man game last year.
The guard would pass to Dieng, and a one-dribble handoff would often follow. If the defending big followed, the guard would hit Dieng back for an open jumper.
It was discovered last season with LaVine.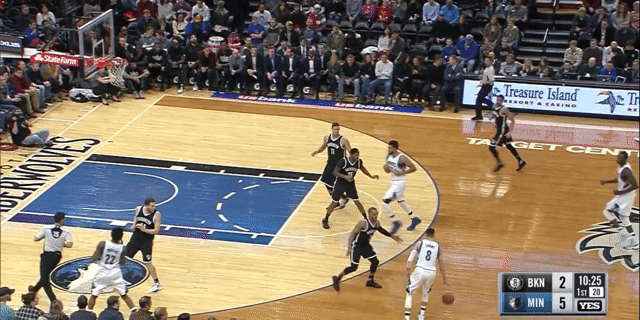 Now watch how eerily similar it is with Crawford.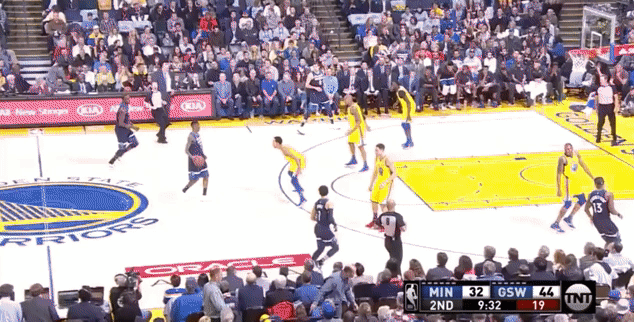 Dieng's fit might not be at center, but his fit with dynamic guards like LaVine, and now Crawford, clearly give him comfort. It's taking him a while to find his production from a season ago, but he's always been a fairly adaptable player, and the odds of him finding himself again are high.
The bench as a whole hasn't quite found itself, but the good news is the starters have.
Like every NBA team, Thibodeau brings his bench in piece-by-piece. The "hockey subs" method – keeping five-man groups together – was somewhat relevant for a while early in the season, but injuries and struggles for Shabazz Muhammad ended that experiment.
Even after some success from Marcus Georges-Hunt, who has gotten some minutes as a wing-stopping 3-point shooter, there are almost always starters out there with him.
But as long as the starters play with the same level of continuity they've played with the last two months, the reserves should be able to come in and play with a good amount of confidence.
That's a big why Bjelica hasn't looked out of place in his four starts with Butler out. Not only is he a capable player in his own right, the rest of the starting group has so much time together, that one different piece isn't affecting the way they run offensively.
Injuries aren't fun for anyone, but it has to be relieving for Thibodeau to know his bench guys can come in and hack it.
---