It's clear that Karl-Anthony Towns is a star player, and on Tuesday, it'll be up to the coaches to decide whether that stardom will get him to Los Angeles to compete in his first All-Star game.
The odds are good that Blake Griffin, a prolific five-time All-Star and former slam dunk champion, will miss the game – hosted in Los Angeles at his home Staples Center – for the second year in a row.
The two of them play each other on Monday night at the same Staples Center. And while they probably won't guard each other much, their stories are similar enough that comparison is going to be drawn from time to time.
Both are No. 1 overall picks, drafted by a team without much of a winning history to reference. Both won Rookie of the Year fairly easily, and are the only two big men to win the award since Emeka Okafor in 2005.
Both showed off their individual prowess until a more seasoned star – Chris Paul and Jimmy Butler, respectively – showed up and led the team to the playoffs.
The point in their stories, though, are vastly different.
Paul is out of LA, and Butler just joined Minnesota. Towns is 22 and has yet to experience the playoffs, while Griffin is fighting for his team's seventh straight playoff appearance – albeit the first in that stretch without Paul.
And the Clippers might really do it.
Considering the injury to Griffin early in the season that sidelined him for 14 games, the fact that the Clippers are still in the playoff hunt – currently sitting in the eighth and final playoff spot – is nothing short of miraculous. Lou Williams' extraordinary season plays the biggest role in that, but the wins started to really pile up when Griffin made his return to the team.
Since he came back, the Clippers have gone 9-3 with wins against the Warriors and the Rockets. They look like a playoff-caliber team, even without Paul.
And while Towns doesn't have to worry about the team's star leaving the team – not for a couple years, anyway – he can learn how to build value for himself in the meantime.
Not only will this help the team down the road, it will help them right now.
Saturday night's win over the Raptors was a good first step in that, too. While Andrew Wiggins took control in the first half, Towns dropped 22 points on seven shots in the second half, and led his team to a win over one of the NBA's best.
And, as Jerry Zgoda of the Minneapolis Star Tribune reported Monday afternoon, Towns will have to go against Griffin without his veteran star teammate for the second straight game.
Thibs says both Butler and Crawford are out tonight vs Clippers

— Jerry Zgoda (@JerryZgoda) January 22, 2018
Butler's absence makes the Clippers a tougher opponent for obvious reasons, but it does give Towns a chance to do more of what he did Saturday.
And it gives him an opportunity to showcase all the improvements he's made to his game since entering the league. Long-term, that's where he can learn from Griffin the most.
When Griffin first entered the league, he was known for one thing: dunking the basketball harder and more often than any player in the league. He won rookie of the year because he was the best of the bunch that year, but his game was still very incomplete as his first year winded down.
As time went on, Griffin's improvement became just as notable as the dunks that made him famous in the first place.
Like most stars in the league, Griffin has tried to improve different parts of his game in each offseason. He's never been a stellar post player, but it has improved, and he still has the physicality to score in bunches down low.
What might be most impressive is how good he's become off the dribble. When he combines his handle with his already-physical play, he's nearly impossible to guard when going in on a straight line.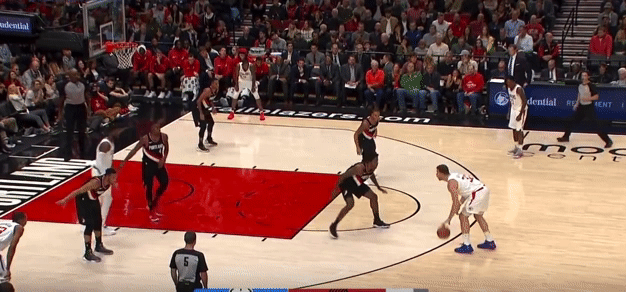 Most recently, he's added the 3-point shot to his arsenal. He's only shooting 33.5 percent from deep, considering this is his first year taking them in bunches – 5.6 deep balls per game, currently – Doc Rivers will live with it for now.
Why? Because Griffin has improved every year of his career, and added value to his team as he's done it. That's what Towns can learn from. Lately, it looks as though he's done just that.
The advantage Towns has over Griffin is a prospect how polished he already is offensively. He has the potential to have a more prolific career than Griffin, and could get started with that as soon as this year.
Very few had the skill level Towns has already reached at 22, but there is always stuff to work on. Offensively, though, it's mostly little things.  Decision-making, dribble handoffs, and avoiding offensive fouls can be improved, but his general grasp of offense was essentially at an elite level when he entered the league.
But Towns has improved a ton defensively over the past few weeks, and if that sticks, it's step one onto the route Griffin took as a young player.
This upward trajectory needs to keep happening if he wants to improve at the rate Griffin did, and make as many All-Star games (and beyond) as Griffin has.
If he can become the defender most think he can be, anything can come next. He could work on becoming a more accomplished playmaker, or become a true shot-blocking threat – within the flow of an intelligent defensive state of mind.
Towns, like a young Griffin, has untapped a ton of his potential already, but hasn't reached it completely yet.
But if Griffin's long-term and Towns' shorter-term success is any indicator, he's on the right track.
---