To Minnesota Timberwolves fans, Jeff Teague will always be connected to Ricky Rubio. This is because during the summer of 2017, Tom Thibodeau was getting the band back together. On that reunion tour, Thibodeau traded Zach LaVine, Kris Dunn and Lauri Markkanen for his former lead-man, Jimmy Butler — the faux-hawked lead-singer of Thibs' old punk band. That summer Thibodeau also reunited with his septum-pierced drummer, Taj Gibson. So, functionally, all that was left to complete the triumvirate was a point guard.
Enter Teague, a stoic-faced bassist that Thibodeau was familiar with because Teague's indie band based out of Atlanta had opened for Thibs' crew back in the early 2010s.
Trading Rubio to free up enough cap space to sign Teague became a defining move for the then-president of basketball operations of the Timberwolves. Rubio was set to earn $14.1 million during that 2017-18 season and $14.8 million the following year. By dumping Rubio into Utah's cap space, Thibodeau was afforded the opportunity to sign Teague to a three-year, $57 million deal to complete the band. From there, Teague's Timberwolves existence was forever handcuffed to Rubio.
The new Minnesota Timberwolves president of basketball operations, Gersson Rosas, had a first summer that didn't rock the same way.
Rosas' biggest move was trading Dario Saric, another Thibodeau band member (saxophonist?), and the No. 11 pick in this past summer's draft for the No. 6 pick that became Jarrett Culver. Other than that, though, the rest of the summer's acquisitions by Rosas were pretty classical. Headlining the free agency period for Rosas was the signing of Jake Layman, who signed a three-year, $11.3 million contract.
Every other signing or acquisition was for a player on a one-year deal that would pay them at, or near, the minimum. One of those cost-conscious moves was landing Shabazz Napier from the Brooklyn Nets, ironically as the third team facilitator in a three-way sign-and-trade that sent D'Angelo Russell from Brooklyn to the Golden State Warriors.
That's what most Timberwolves fans remember about Rosas' first summer: the moves he didn't make. The stickiest memory, of course, was Rosas' pursuit of Russell that didn't come to fruition. A more muted non-move, though, and the one that ties Napier to Tyus Jones, was Rosas opting to pass on matching the three-year, $26.4 million deal Jones signed with the Memphis Grizzlies. In ways similar to Thibodeau, who prioritized financial flexibility rather than keeping Rubio, Rosas prioritized financial flexibility instead of retaining a different hometown favorite.
The difference here is that opting to go with Napier rather than Jones provided Rosas with future financial flexibility. It's safe to say that Thibodeau was more of a "now" guy than Rosas. After this season ends, Napier will become a free agent, carrying bird rights and a cap hold of only $1.7 million that Rosas can opt to renounce if he deems he needs that additional space to make other moves. Conversely, had Rosas opted to match the deal Jones received from Memphis, the Wolves would be carrying Jones' $8.8 million salary into next season — a burden of a degree that is tied to one's affinity for Jones.
That was the opportunity cost calculation for Rosas and the new Wolves front office: Would they easily be able to move the two years and $16.9 million that would remain on Jones' deal next summer if they had a bigger fish on the line?
Their answer was no. Simply on the basis of future flexibility, taking on Napier and his $1.8 million deal rather than Jones' $26.4 million deal was the safe move. To understand the weight of Jones' salary at that number is to understand the Wolves' current cap situation. Between the seven players with guaranteed contracts for 2020-21, the Wolves already have $101 million in salary on the books for next season. (Yes, that's with Teague expiring — moving on to a new gig.)
That $101 million number makes it appear that the Wolves are $15 million below the estimated salary cap of $116 million for next season, making Jones' salary seem a bit more palatable. But that $15 million number is not a fair representation of future space. If the Wolves miss the playoffs this season, they'll be adding a lottery pick that will come in with a first-year salary likely somewhere between $4 and $5 million. There is also minimum roster holds to consider that will need to be applied to roster spots 9-12 — costing around $1 million per spot; so another $4 million gone. And then there is also the final year of the waived-and-stretched contract of Thibodeau's old bouncer, Cole Aldrich, that carries a $685,340 cap hit for the 2020-21 season.
So that $101 million, plus $5 million for a rookie, plus $4 million in cap holds, plus $700k for Aldrich all leaves Rosas looking at something like $5 million in cap space to work with next summer. If Jones was on the books, that space would be gone.
The set is over; Rosas chose the Napier path over the Jones route. But with the Wolves playing Tyus and the Grizzlies on Tuesday in Memphis, it's fun to think about what the path not taken would have looked like in comparison. Would the Timberwolves have won more games if Jones was on this team?
Bazz or Tyus: Who Would Have Been Better *This* Year?
Let's start with Napier.
The timing of this column is kind to the Napier path. Bazz has been absolutely ballin' over the Wolves past four games — three wins over Brooklyn, Golden State and Cleveland, and a two-point loss to Milwaukee. Prior to this four-game boomlet, Napier had been awful — averaging 7.2 points and 1.0 assists per game while shooting 21.5 percent from deep. The surge really has been massive. Over the last four, he's averaging 21.8 points and 6.3 assists per game while shooting 55.0 percent from deep. In the 129 minutes Napier has been on the floor during the run, the Wolves have outscored their opponents by 18.7 points per 100 possessions — highlighted by a filthy 91.2 defensive rating.
Perhaps most encouraging as it pertains to success for the rest of the season is that Napier's role is unlikely to immensely change going forward. Andrew Wiggins came back from a four-game absence in the Wolves' last win. Napier still started, and he still balled out — scoring 21 points on 8-of-10 shooting while tallying seven assists. The offense will obviously revert back to being KAT-centric whenever Karl-Anthony Towns returns, but the synergy Napier has found over the run with a few teammates feels meaningful. Let's look at a few of those.
The Napier-Covington-Culver Trio
During this four-game run, Culver has also arguably been playing the best basketball of his (short) career. It's probably not a coincidence that Culver has found success in the 132 minutes he's played over the last four considering that he has been flanked by both Napier and Robert Covington for 91 of those minutes. Offensively, the commitment Napier and Covington have shown to consistently get up the floor and play with pace seems to alleviate pressure for Culver; he doesn't have to rely on his jump shot in the halfcourt when Napier and Covington get the team running.
The Wolves' defense has played at a really high level in those 91 minutes of Napier-Covington-Culver. With a defensive rating of 90.6, they've only needed average offense (107.4) to outscore opponents by 16.8 points per 100 possessions. Ryan Saunders may have found something here. Prior to this boomlet, those three had only shared the floor for 31 minutes during the first 31 games of the season. The on-ball peskiness Napier and Covington apply to their man allows Culver to fall into more of a free safety role that allows him to rely on his instincts when jumping passing lanes. Culver has nine steals over the last four games, including this pick-six: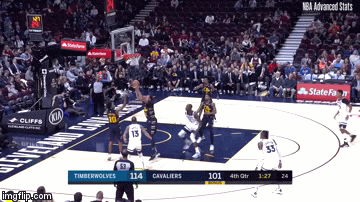 Gorgui Dieng-Shabazz Napier Two-Man Game
The other Timberwolf who has ascended during this recent run is Gorgui Dieng, and that also feels tied to Napier. From LaVine to Jamal Crawford, Dieng has always found symmetry with gunning combo guards. The Napier pairing has been no different. Dieng is particularly apt in dribble hand-off actions, and he also has a keen sense of floor balance when it comes to knowing when and where to set a screen. This synergizes well with a guard who loves to pull-up. Look at this read by Dieng that leads to a 3-point and-1 for Napier:
The Napier-Dieng pairing has also found success all the way into the paint, following Napier's ability to get downhill. He may be small, but Napier is a funky finisher. Dieng knows how to read those drives; he times his rim crashes prudently. Over the past four games, Dieng has 15 offensive rebounds, numerous of which were cleanups off Napier drives.
The Timberwolves have been playing well of late largely due to their team defense, which Napier and Dieng certainly play a role in. But the offense the Wolves have been generating when those two have been on the floor has also been encouraging. Napier and Dieng likely won't combine to make 18 of their next 34 shots from deep, as they have the past four games, but there are other portions to their offensive synergy that inspires hope that those two can be a winning two-way combination.
On to Jones.
In a weird sort of way, Napier's role this season mirrors Jones' of last season. Tyus was supposed to be the backup, but a litany of unforeseen injuries led Jones to start in over a third of the games he played in. Now in Memphis, Jones is back to his old job, functioning almost exclusively as a back up to his team's lead guard. With Ja Morant starting whenever healthy, Jones' minutes typically vacillate somewhere between 15 and 22 (Morant is only plays 29.3 minutes per game). But the style of play Jones is being asked to orchestrate is very different than what he was previously asked to run under Thibodeau.
Moving to a more modern tune in Memphis, Jones has shown real chops as the type of point guard that can lead an offense into the highest percentage looks on the floor. Like the Wolves this season, and particularly when Jones is in at point, Memphis digs for penetrations and corner 3s. Jones' very intentional prodding for his Grizzlies teammates in the corners is the most jarring difference from his time in Minnesota. He's constantly searching for someone to flare out.
The Grizzlies have numerous pindown sets that they run when Jones is on the floor that does not hide their intention to get to the corner.
These corner-driven actions often lead to "hockey assists" for Jones, like this one:
This more modern style of play lends the ability to glean what Jones would look like in the Wolves' new and more modern, 3-heavy offense. He'd be very different than Napier and Teague, who tend to look for their own shot more than Jones does. It's probably safe to say that Jones' quarterbacking skills would have led to more clean 3-point looks for his Timberwolves teammates if he were still in Minnesota than Napier or Teague have.
But that hasn't really been the problem for the Wolves; making open 3-point looks has. The Wolves are fourth in the NBA this season in 3-point attempts per game deemed "open" by NBA.com, and they are seventh in the league in 3-pointers deemed "wide-open." Again, the problem is making those looks — the Wolves have only made 29.2 percent of their open 3s (29th in the NBA) and 35.6 percent of their wide-open 3s (27th in the NBA). The Wolves need 3-point shooters more than they need 3-point passers.
If Jones would only be helping the Wolves nominally in the passing category for 3-point shooting then he would be hurting the team in the making category if the shooting he has showcased in Memphis is a fair indicator. Jones has only made 31.7 percent of his own 3-point attempts this season. The only area he's been a real positive force in the shooting department of the game this season is in the mid-range. Jones appears to have better honed his floater in Memphis; he's made 52.1 percent of the 73 shots he has taken this season 8-to-16 feet from the basket (up from 38.0% from that distance last season). Most of those look like some variation of this:
The real argument for Jones over Napier on this Timberwolves roster would be on the defensive end. Napier has really helped the Wolves on that end since Christmas, where the Wolves have had the best defensive rating in the NBA. But prior to this six-game boomlet, the Wolves were 20th in defensive rating.
ESPN's defensive real plus-minus statistic is imperfect, but it is also largely regarded as one of the best metrics used to measure defensive impact. Prior to this season where Napier acquits himself well, Jones has been ranked higher in DRPM than Napier every season of his career — most seasons by a large margin.
The real selling point for Jones as it pertains to defense would be how he would theoretically boost Towns as a defender. In every season of Towns' career, the Wolves have had a better defense with Towns off the floor than when he is on the floor. Other than this season, Jones was there for every one of those seasons, and KAT's defensive rating was better with Jones next to him every season except for the pairs' rookie year. It's fair to say that Jones is up there as one of the most helpful defensive partners Towns has ever shared the floor with.
Would the Timberwolves be off to a better start this season if they had Jones instead Napier? The answer to that is probably yes. The system is new, but there is definitely something to be said for the continuity he would have brought to the beginning of the season. Jones not only has experience with Towns but also many of the other Wolves players on the roster. Additionally, it wouldn't have taken much to be better than Napier has been before this recent boomlet.
That said, it's hard not be excited about what this new version of Napier could bring to the Wolves for the rest of the season. This roster undeniably craves a shot-creator of Napier's ilk. That just isn't Jones' game.
So if we're somewhere near a push — Jones better in the first half of the season, Napier better in the second — it's hard to question the move of opting to roll with Napier on a one-year deal worth $1.8 million versus Jones' three-year, $26.4 million contract. And it's definitely proving to be a more prudent move than whatever Thibodeau was trying to do back in his band manager days when he signed Teague for $5 million more annually than what Rubio was making.