The Minnesota Timberwolves have clearly hit the third phase of the season. After the "Bahamas wasn't a joke" hot start that saw the Wolves start 7-4 and then 10-8 in the first quarter of the season, the team clearly became a joke — running off a record of 6-29 into the All-Star break. Post-break, the goalposts have moved. In the wake of likely losing, Minnesota has pivoted into full-on development mode.
On Sunday in Denver, the Wolves rolled out a group that will look a hell of a lot like the group they will play in this July's Summer League. They're trying out different things that naturally lead the still-engaged portions of the fanbase to question the motivations behind who is receiving playing time. When the roster feels a lot like a G-League team it's, again, only natural to wonder why players like Omari Spellman, Jacob Evans and Jarred Vanderbilt are almost exclusively playing in the G-League.
So let's dig into who is receiving playing time and why they're receiving it over others before digging into how the style of play has also clearly begun to evolve. Mailbag time.
Question: Omari Spellman seems to be responding well in Iowa and this team is in desperate need of bigs, so why hasn't he been called back up? — Corbitt Harrell
As I understand the Spellman situation, I think there is one fundamental thing that needs to be understood: the Golden State Warriors wanted to get out of the luxury tax when they made the D'Angelo Russell for Andrew Wiggins swap. By league rule, the Wolves were allowed to take back 125% of the salary sent out with Wiggins. So they did just that. In trading Russell, Evans and Spellman for Wiggins, Golden State was able to round out their roster with minimum salaries and still set themselves just below the tax line.
In other words, Evans and Spellman coming to Minnesota was, at least in part, a salary dump by Golden State of $3.8 million (Evans and Spellman's combined salaries). It was something Minnesota was willing to take on so as to not take have to sacrifice additional assets in the trade. Evans and Spellman both are individually scheduled to make $2 million next season, as well. Golden State didn't want that money on their books, and Minnesota was fine with taking it on to get the player they coveted in Russell.
Evans and Spellman can also be viewed as neutral, maybe even positive, assets going forward, given the nominal cap hits the two players hold. But that does not mean Minnesota sees them as pieces to the puzzle immediately. In Evans at the wing position and Spellman at the big position, the Wolves clearly have players at those positions who they prefer to develop over those two. Specifically at the big man position, Ryan Saunders and Gersson Rosas want Naz Reid to develop. Time and again since the break, Saunders has said: "We are committed to Naz."
Fans are entitled to the opinion that Spellman is currently better at basketball than Reid. They probably wouldn't be wrong. It's those same fans' prerogative to say they believe developing the 22-year-old Spellman makes more sense than developing the 20-year-old Reid. But Rosas and the Wolves organization are also entitled to their own opinion, and they've made that clear. Illustrated by Reid having started the past three games while Spellman has yet to play a minute for Minnesota, Rosas is playing with his cards face up — a Ten, Ace, Nine and King.
Much has also been made about Spellman having some attitude issues that have held back his development thus far in his career. Those issues were a very real issue in Atlanta during Spellman's rookie season. I don't know to what extent those issues are playing into his current role in Minnesota. But it's not unfair to connect dots that might suggest some of those personal issues — including weight gain — have held back his prioritization in this new situation.
I wouldn't be surprised to see Spellman eventually receive a chance in Minnesota. But I feel confident in saying that the team will not prioritize that opportunity over developing Reid. To speculate, it's possible that Spellman's presence alone could impact Reid's confidence. For example, if Spellman was given a shot in Minnesota, and if he did in fact play well, it's possible that could get in the way of the clear goal that is, again, prioritizing development for Reid.
Everyone is entitled to their own opinion on what Spellman's role should be on this Timberwolves team, and that includes Minnesota's front office. We'll see what plays out. There are layers to this confusing situation.
—
Question: Is there any word on what's happening with the Evan Turner situation? The team could use the roster spot or his vet leadership in the locker room. — Marty Grimble
The Turner situation is different than the Spellman, Evans or Vanderbilt situations. Turner's contract expires at the end of this season while Spellman, Evans and Vanderbilt are all under contract for next year. Turner is also nearly a decade older than all three of those players.
I would anticipate more clarity on Turner by the end of this week — as March 1 is the deadline for a player to be bought out while still retaining their eligibility to compete elsewhere in the playoffs. Functionally, that is the deadline for another team to work something out with Minnesota and Turner's management team if they are going to get the veteran on to their playoff roster.
I would be stunned if Turner ever dawns a Timberwolves jersey, even if he might be a better player than some of the wings that are currently receiving time for Minnesota. Playing a 31-year-old on an expiring contract is just not a value-add move for the Wolves. The value-add would be finding a buyout for Turner that helps them duck the luxury tax. If the Wolves can shed $1.1 million in salary — from Turner and/or multiple buyouts — then Minnesota can get under the tax, save cash and avoid the potential hazards of being in the repeater tax next season.
—
Question: Is Jordan McLaughlin someone we can roll into next season with as our backup PG? — Tim Wightman
If Rosas is able to negotiate multiple buyouts for players currently on the books, he could then theoretically offer a guaranteed contract to McLaughlin (or Kelan Martin) while still staying under the luxury tax line. Those contracts for McLaughlin or Martin could be for multiple years — perhaps in the mold of Reid's contract, which is for multiple seasons and non-guaranteed going forward.
McLaughlin and Martin would likely accept those deals. It would be a big pay bump. But for the Wolves to offer those contracts, they probably would want to feel sure that McLaughlin or Martin is a player they want to keep around beyond this season. Even if the salary is non-guaranteed, it's still a roster spot taken.
As this pertains to McLaughlin specifically, the question is probably about whether or not Rosas wants to move forward with him as the backup. Signing McLaughlin to a deal that would pay him, say, the minimum next season would be a way to maximize financial wiggle room going forward. But would Rosas rather have that role go to a different point guard? That's the question.
McLaughlin has been solid in the time he has received this season, but there may be other point guards that could be acquired this summer that are better than he is. To me, rolling with McLaughlin as Russell's backup point guard next season would be a pretty strong indicator that next season is again about development. I don't think we can confidently say that McLaughlin is the quality of a player that is the backup point guard on a team that is trying to make the playoffs.
Maybe there is some middle ground. It's possible they could work out a deal that has McLaughlin filling a third point guard role. But do they even want to have three point guards on the roster next season? There are numerous question marks here. The first likely being: Can they work out big enough buyouts to create space for McLaughlin to sign a rest of season contract. Again, I presume any buyouts that happen will happen by the end of February, given the March 1 deadline for playoff eligibility.
—
Question: Does David Vanterpool deserve any criticism or responsibility for the lack of improvement on defense? — BHT
I've been one to question the defensive tactics Vanterpool imparted on this Timberwolves roster this season. But the results poke some holes in the line of thinking that these tactics are not best for this Wolves roster. After ranking 24th in defensive efficiency a season ago, the Wolves are up to 20th this season. And before they threw in the towel after the All-Star break, the Wolves were 17th in defensive efficiency — one slot below the Memphis Grizzlies and one above the Dallas Mavericks, both Western Conference playoff teams.
If the defense continues to plummet down the rankings, I don't think Vanterpool should be the one being held accountable for the demise. After being dogmatic in defensive principles during the first half of the season, Vanterpool has clearly relented, allowing his players to test out a litany of different defensive personnel and schemes. Particularly in the personnel groupings that have featured the 6'7″ James Johnson at the center position, the Wolves' defense looks like nothing like it did when Karl-Anthony Towns was healthy.
Against Dallas on Monday, the plan was clearly to try out a "switch everything" style of defense. Watch here as Josh Okogie switches with Johnson after the first screen and then again switches with Russell when he and Russell's men cross paths. This kind of stuff never happened with Towns in the lineup.
If we assume that Vanterpool will swing his group back to playing the old way when Towns returns, then the results of this style of defense — good or bad — is fairly irrelevant. If anything, I'd assign positive points to Vanterpool and the coaching staff for a willingness to innovate. I'm of the mind that a dogmatic commitment to one scheme on the defensive end is unhealthy in the habits it can create, particularly if we don't know that those habits are the optimal behavior.
—
Question: James Johnson has been great initiating the offense. Do you think next season we could see more of Karl-Anthony Towns doing the same? And what would this unlock for the offensive potential of the team? — Troy Willis
It has been interesting to watch Johnson function some as the point guard of the Wolves offense. Ryan Saunders has referred to Johnson as the center on defense (when he's not out there with Reid) and the point guard of the offense (when he's not out there with Russell). Like the switching on defense, it's a cute little tweak that breaks away from some of the dogma.
In my opinion, some of the plays where Johnson actually brings the ball up the floor is a little too cute.
That said, I have thought the plays where Johnson takes over the point within the flow of the offense, mid-shot clock, has been a weapon. The threat of Johnson's ability to penetrate from the top of the key holds the defense back toward the rim, which can free Wolves shooter to slide around the perimeter for open looks.
My favorite actions that give Johnson the ball at the point are these weaving interactions with the actual point guard. I think using Towns in this way could be dynamic.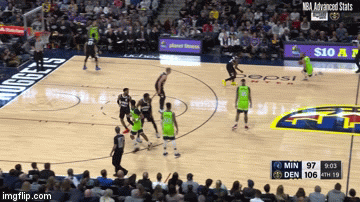 This KAT-less Tank Time can have positive externalities. New habits derived from new personnel can get this group comfortable with doing things in ways different than their very patterned approach during the first half of the year. The execution might be wonky, costing the team wins, but even that I don't think Saunders or Rosas are all that worried about. This team is lined up in punt formation for the final 25 games of the season, kicking the can down the road to next year, hoping to gain some valuable experience along the way.